Carryduff based company, Clarke Cunningham Tree Maintenance Ltd have taken a walk on the wild side by sponsoring Belfast Zoological Garden's Francois langur enclosure as part of their corporate partnership scheme.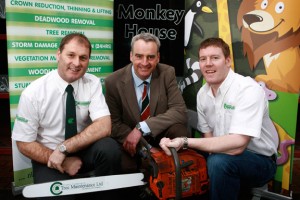 Tree Maintenance Ltd was established in 1982 and from a small two man team the organisation has developed into a major company within the arboriculture industry in Northern Ireland. They have provided their services to the zoo for many years. From tree surveys, planning consultations, tree planting and landscape design. Tree Maintenance Ltd has decided to further support the zoo and become a corporate partner.
Belfast Zoo's corporate partnership scheme entitles the company to showcase their brand and services to over 300,000 visitors a year and they also receive key benefits including behind the scenes tours.
Tree Maintenance Ltd's general manager, Gareth Casement, said "We are delighted to take part in Belfast Zoo's corporate partnership scheme.  We are also thrilled to be supporting the Francois langur, a species which is facing extinction and which also appears to have so much in common with our own climbing staff! We are pleased that this scheme gives us the opportunity to support these marvellous primates and the continued conservation work of Belfast zoo."
"Francois langurs are facing a high risk of extinction due to habitat destruction, increased agriculture, warfare, logging and they are also hunted as food, for medicine and for the pet trade.  In
2003, there were estimated to be less than 500 langurs in Vietnam and only approximately 1400 in China.  Francois langurs are part of a breeding programme and Belfast Zoo plays an active role in the conservation of this beautiful species, as we hold the studbook!" said Mark Challis, zoo manager.  "Local businesses such as Tree Maintenance Ltd play a vital role in the development of the zoo and our corporate partnership scheme not only allows these businesses to help us fulfil our role in protecting animals, such as the Francois langur, that are in danger but
also provides these businesses with a range of benefits."
You can find out more about 'Clarke Cunningham Tree Maintenance ltd' by visiting their website, www.treemaintenance.com or for more information about Belfast Zoo's corporate partnership scheme go to www.belfastzoo.co.uk/corporate/opportunities.

Tags: